How does Juvederm work?
Juvederm is a family of injectable dermal fillers that diminish lines, wrinkles, and folds that develop on your face. While each Juvederm product targets different areas of the face and some may contain a slightly different mix of ingredients, they all primarily use a stabilized form of hyaluronic acid.
Hyaluronic acid is naturally produced in your body, where it binds with water to moisturize and add fullness to your skin. When it's injected into the area directly below wrinkles, it restores volume and plumps up wrinkles, which significantly diminishes their appearance.
What Juvederm products are used at Strax Rejuvenation?
Patients at Strax Rejuvenation have access to a variety of dermal fillers, including several from the Juvederm group. Two of our most popular Juvederm treatments are:
Juvederm XC: This member of the Juvederm family softens moderate-to-severe facial wrinkles around the mouth such as parentheses lines and marionette lines. Parentheses lines, or nasolabial folds, are wrinkles that run from the side of your nose to the corner of your mouth. Marionette lines begin at the corners of your mouth and go straight down toward your chin.
Juvederm Voluma® XC: This injectable filler is specially designed to lift and contour cheeks. Over time, the natural cushion of fat under the cheeks is depleted, which makes cheeks appear hollow and droopy. Juvederm Voluma XC corrects this problem by restoring that lost volume back to the cheek area.
What should you expect during and after treatment?
It only takes 15-60 minutes to inject Juvederm, depending on the area of your face being treated. All Juvederm products with "XC" in their name contain lidocaine, which is a local anesthetic that helps relieve any discomfort during the injection. Your doctor will also offer a topical numbing cream or ice to ensure your comfort during the procedure.
You'll receive detailed care instructions to follow after your treatment, including recommendations for ongoing skin care. Patients should avoid skin care products that contain alcohol and avoid sun exposure for a few weeks following their injections.
You'll see immediate results after a Juvederm injection, but you may have some mild swelling that will hide the full effect until it subsides. Juvederm XC lasts up to 1 year, while Juvederm Voluma XC should last up to 2 years. With repeated treatments, you'll find that the results last longer.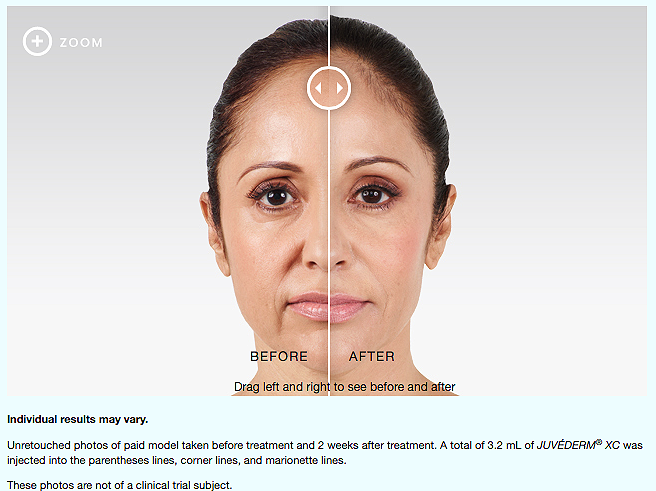 *Individual Results May Vary